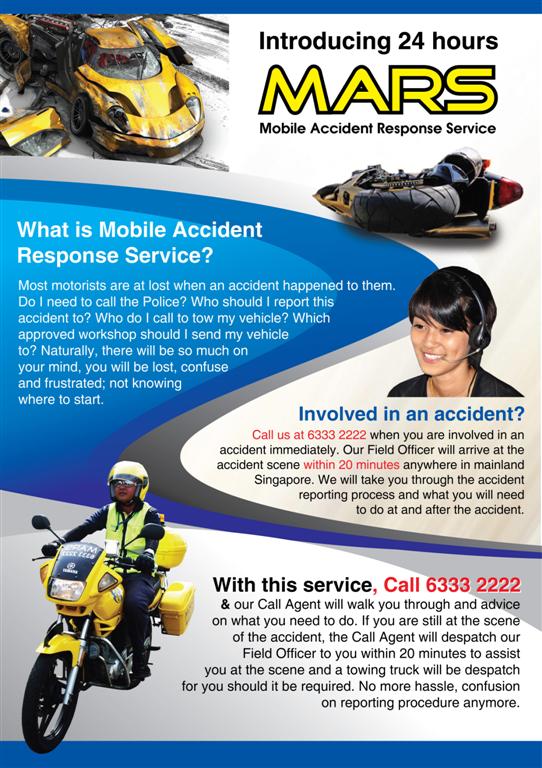 AJAX International Group is pleased to announce that we have recently concluded the acquisition of BHH MARS, a provider of mobile accident response services mainly for the insurance industry in Singapore.
Following the acquisition, BHH MARS has been renamed AJAX MARS.
AJAX MARS operates with a fleet of 12 motorcycles and 15 reporting officers working round the clock. The team is supported by a full suite call centre with 15 call agents providing various tailored services to our valued clients.
AJAX MARS serves as a first contact for accident reporting and responds with immediate accident site attendance towards fulfilling the following objectives:-
· To assist Insurers to obtain evidence at accident site
· To assist the Insured at accident site
· To protect Insurers & the Insured from touts
· To manage motor accident claims cost
Together with our member companies in Singapore, AJAX Adjusters & Surveyors, AJAX Inspection Services and AJAX Investigation and Security Services, AJAX MARS complements our existing services for a comprehensive and seamless process to provide a one stop solution in the areas of motor accident reporting, evidence gathering, vehicle inspection and claims investigation.
If you wish to know more about AJAX MARS services and how we can assist in claims cost management, please do not hesitate to contact us and we can arrange a presentation on our scope of services.
We look forward to your continued support.